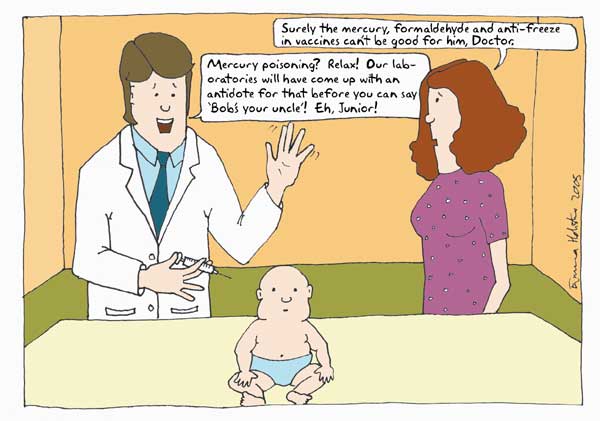 This interview makes me cringe! If you want to know the truth about vaccines this is a MUST read!
http://www.vaclib.org/basic/manu.htm
Here is an excerpt from this interview:
Q: Are some vaccines more dangerous than others?
A: Yes. The DPT shot, for example. The MMR. But some lots of a vaccine are more dangerous than other lots of the same vaccine. As far as I'm concerned, all vaccines are dangerous.
Q: Why?
A: Several reasons. They involve the human immune system in a process that tends to compromise immunity. They can actually cause the disease they are supposed to prevent. They can cause other diseases than the ones they are supposed to prevent.
Q: Why are we quoted statistics which seem to prove that vaccines have been tremendously successful at wiping out diseases?
A: Why? To give the illusion that these vaccines are useful. If a vaccine suppresses visible symptoms of a disease like measles, everyone assumes that the vaccine is a success. But, under the surface, the vaccine can harm the immune system itself. And if it causes other diseases -- say, meningitis -- that fact is masked, because no one believes that the vaccine can do that. The connection is overlooked.
Q: It is said that the smallpox vaccine wiped out smallpox in England.
A: Yes. But when you study the available statistics, you get another picture.
Q: Which is?
A: There were cities in England where people who were not vaccinated did not get smallpox. There were places where people who were vaccinated experienced smallpox epidemics. And smallpox was already on the decline before the vaccine was introduced.
Q: So you're saying that we have been treated to a false history.
A: Yes. That's exactly what I'm saying. This is a history that has been cooked up to convince people that vaccines are invariably safe and effective.