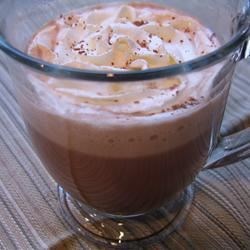 Picture from Tricia Jaeger @ Allrecipes.com
Woke up to a chilly morning and I am loving it. The kids are excited to wear their Fall clothes to school and I'm excited to do some much needed gardening. The kids are also excited to have me make some hot cocoa. Yummmm!
About two years ago I stopped buying the hot chocolate packets that we use to love so much because of all the preservatives that they contain, since then I have been on the hunt for a good hot cocoa recipe. I've been using the one on the side of the Hershey's Cocoa box, but wanted something tastier. In my quest, I found a really good recipe at Allrecipes.com (my favorite website BTW).
When made as is, it's really yummy, but a bit unhealthy, so I only make it this way on Sundays & Holidays. During the week I cut back on the sugar and on the half and half . Here is the recipe courtesy of Jeanie Bean at Allrecipes.com
Enjoy!
Creamy Hot Cocoa